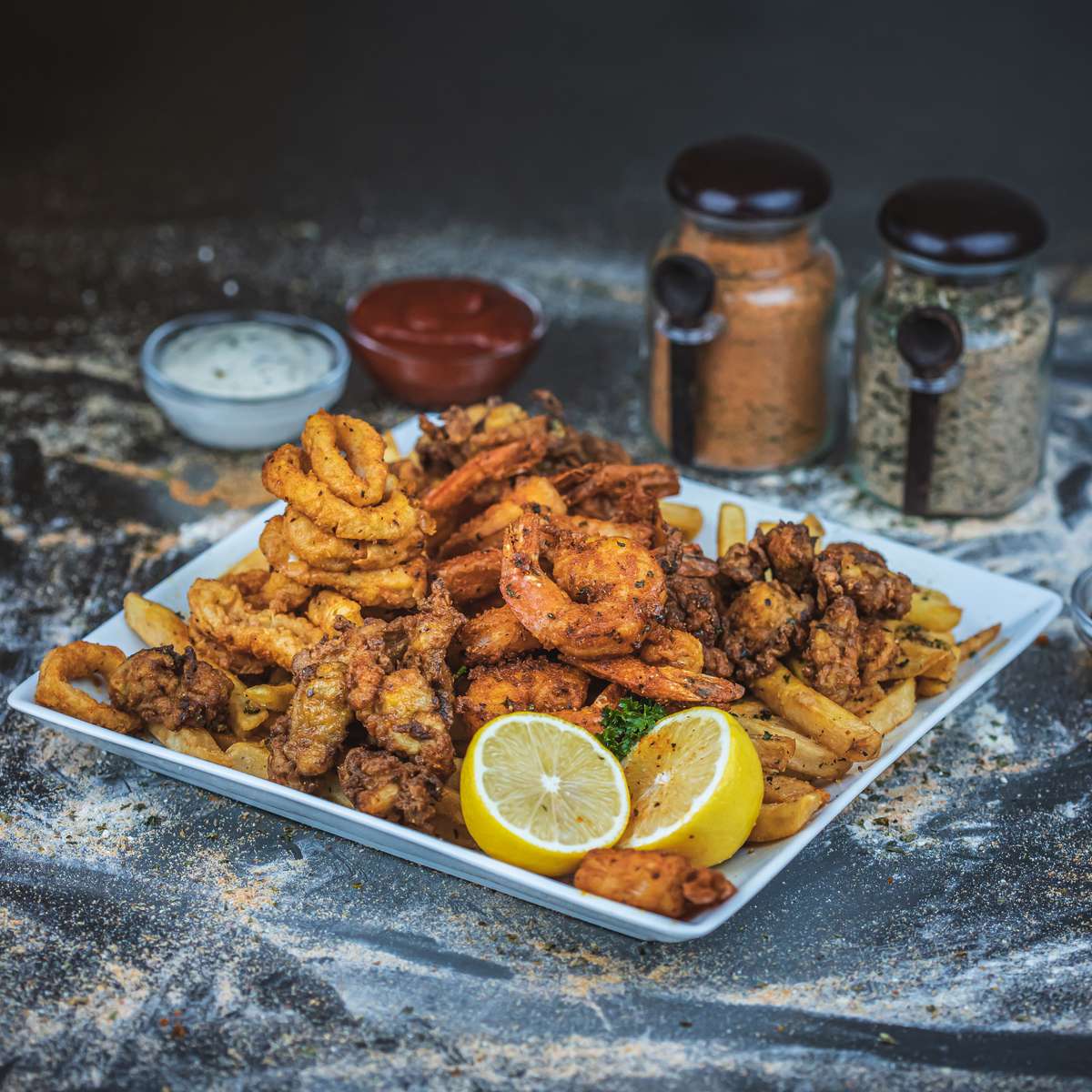 About
Frequently Asked Questions
Will your food truck travel out of city/state for an event?
Yes, our food trucks will travel anywhere in the country for events for a travel fee based off of mileage.​
What type of fish do you serve?​​​​
Do you serve any other types of fish?​
Can I substitute hushpuppies for fries?
No, but you can add hushpuppies to any meal for $3.​
What's the difference in a Single/Double/Triple/Quad?​
Single = 1 Meat
Double = 2 Different Meats Triple = 3 Different Meats
Quad = 4 Different Meats
Can I double up on a protein option?​
You can order a small or large for more of the same protein option.​
What's the difference between a small and a large?​
Small Item Quantities Are: 
Fish = One 6-8oz filet of whiting Shrimp = 6 Jumbo Shrimp
Calamari = 10 Rings
Scallops = 5 Scallops
Oysters = 5 Oysters
Lobster = 1 Lobster Tail​

Larges are double the quantity.
Can I order double shrimp?​
You can order a small shrimp basket for 6 Jumbo Shrimp, a large shrimp basket for 12 jumbo shrimp (double the small portion) or you can order a Shrimp Lover's Basket for 24 jumbo shrimp​ (double the Large Shrimp Basket).
What's in an Oak City Basket?​
Fish, shrimp, calamari, scallops, and oysters all served over a bed of fries, available in both small and large portion sizes.​
Does lobster come in a Pick 2, Pick 3, Pick 4 or an Oak City Basket?
Can I add shrimp to a basket?​
Do hushpuppies come with every basket?​
No, but you can add them to any basket for $3​
Is the seafood fried in the same oil?​
Yes. If you have any seafood or shellfish allergies, we are unfortunately unable to serve you at this time. ​
How much does it cost for the food truck to come out?
Our food trucks have a $1,500 minimum, for every 2 serving hours or the invoice for the selected menu items must equal the minimum. This can be paid for by the event coordinator or​ by customer preorders. If traveling more than 60 miles, there is a travel fee. You can fill out the event inquiry form to invite us out and someone will call you within 24 hours.